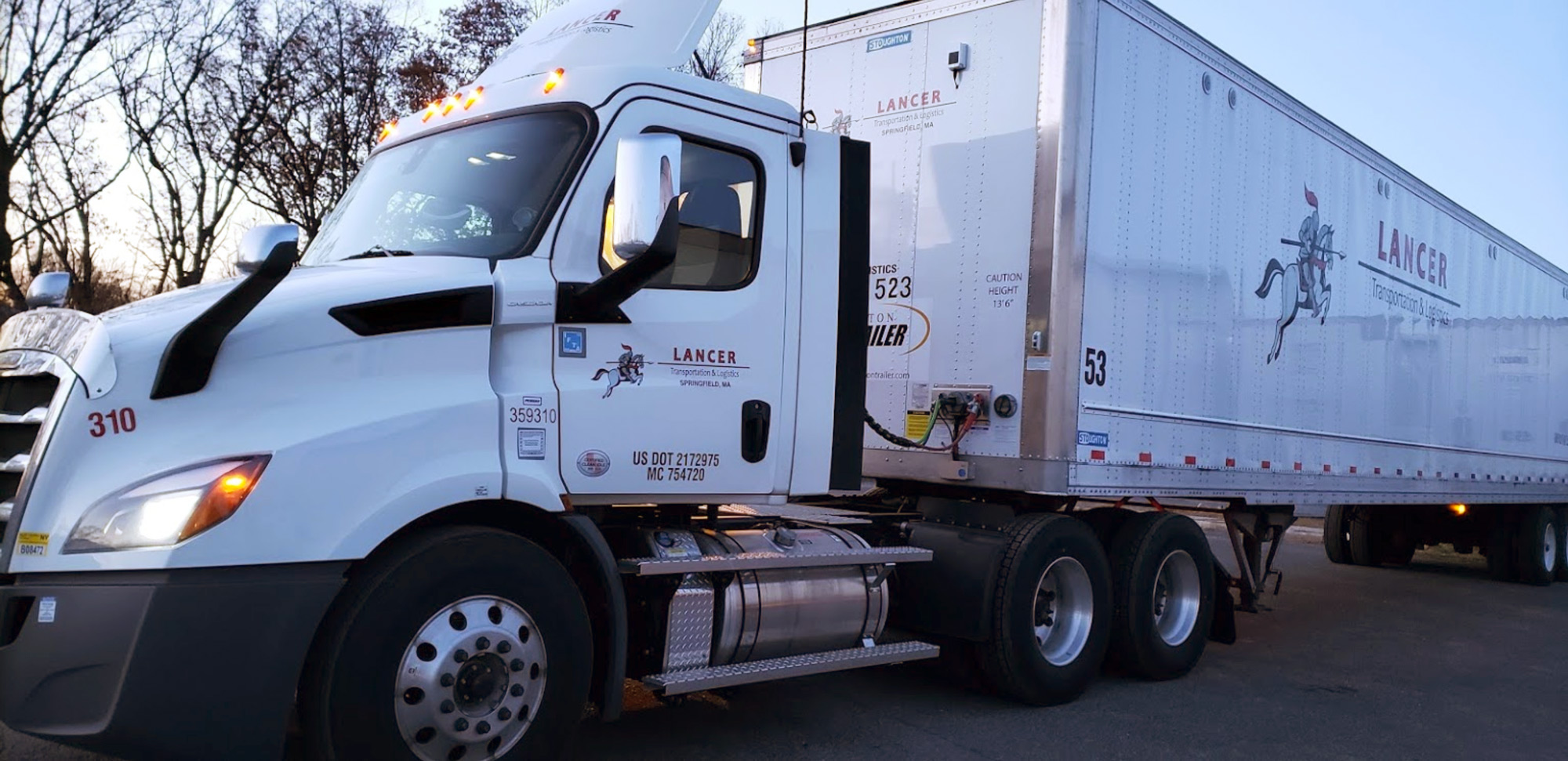 We offer only the best, turn-key transportation capabilities nationwide that many of the world's top Fortune 500 companies rely on every day. Our history, technology safety-first approach, and ability to provide the best-in-class transportation services are second to none. Fully integrated warehouse management, distribution and transportation systems help simplify and streamline your business operations and our 24/7/365 dispatch ensures that you can always reach us in a time of need.  
Lancer Transportation offers asset-based solutions and our centralized location allows for same day or one day service from MA to VA to the South, Ohio to the West, Quebec to the North and All Points East. Our dedicated fleet services include air ride, temperature-controlled, and flatbed equipment. Our transportation management system provides customer support via web integration and EDI transactions to help make sure that we are meeting all of your transportation needs. 
Lancer's highly respected freight brokerage department is committed to increasing the efficiency of your business while minimizing costs. We work with contract carriers to move product outside of our asset coverage area and our robust carrier database enables us to find the perfect carrier to move material at a cost and transit time specified by the customer. Additionally, we are rail service-enabled.
SERVICES
Dedicated Fleet
Our company specializes in trucking so our dedicated fleet of tractors, trailers, and experienced drivers are fully capable of carrying out your shipping operations. Our dedicated fleet is especially useful for businesses with fluctuating demand or specialized equipment. Save your money and resources by outsourcing our dedicated fleet services.  
Transportation Management System
We use the latest technology to help your business plan, execute and streamline the movement of your products. This system provides oversight into daily transportation operations, helps to make sure your shipment is compliant, and makes the proper documentation readily available with EDI transactions. Our transportation management system reduces your costs, simplifies the supply chain process, saves time, and improves customer satisfaction. 
Brokerage Services
The brokerage services provided by our dedicated team can save you both time and money while allowing you to focus on other aspects of your business. We cover you from start to finish with services including order tendering, load tendering, scheduling, loading/unloading, transit, and billing. If you want seamless transportation and on-time delivery, our professional brokerage services are your best bet.
Rail Serviced
We are also rail service enabled, which allows us to efficiently move large quantities of product over great distances. The service may not be for everyone, but if it is a fit for your bulk cargo, there is the potential for tremendous cost savings.
The service area for our trucks: